The Whole Counsel of the Kingdom of God Coalition
below is the text of the 16 pp. Gospel tract booklet>> On Being a "Whole Counsel of the Kingdom" Christian: What does it mean to follow Jesus?
(Hard copies are available on Amazon>> On Being a "Whole Counsel of the Kingdom" Christian: What does it mean to follow Jesus?: Mitchell, Frank N.: 9798454653941: Amazon.com: Books)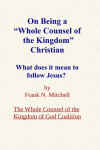 On Being a "Whole Counsel of the Kingdom" Christian: What does it mean to follow Jesus? by Frank N. Mitchell
Whole Counsel of the Kingdom work is proclaiming the Good News of the Gospel (that Jesus died for our sins and rose again) and doing and promoting Justice and Righteousness.

This little booklet answers the question:
What does it mean to be a follower of Jesus in all one does with Christ in your heart and in fellowship with the Creator of the universe and everything in it as Abba Father?
Coming to God as Abba Father
The Bible teaches in order to come to God one must believe that He exists and that He is a Rewarder of those who diligently seek him. (Hebrews 11:6)

This "coming to God" is for personal spiritual or mystical experience in one's inner person. This creates a personal fellowship in our hearts with God, the Creator of the universe and everything in it, as Abba (Papa) Father. (Galatians 4:6)

This personal Abba Father relationship or fellowship is impossible to have by natural man. Why? The Bible teaches that all have sinned or done wrong and fallen short of the glory of God. (Romans 3:23) And each of us know this by our natural conscience (given to us by God).

This means in man's natural condition, he can sense there is a God and even try to serve Him in Right living, but there can be no personal fellowship, as such, with God.

The Atoning Work of Jesus
In order to have personal intimate spiritual fellowship with the Creator of the universe and all that is in it, one must personally accept the sacrificial death of Jesus on the Cross for one's sins. One must accept Jesus as Lord and Savior of one's life, no more to it than that.

In a real sense, personally accepting this atoning work of Christ on the Cross for our sins is no big deal because it costs us nothing. And it is easy to do; simply pray the following prayer:

"Lord Jesus, I believe you died on the Cross for my sins and I accept that death for myself and turn from any sin in my life. I commit to follow you as Lord all the days of my life; come into my heart today, come into my heart to stay. Amen"

The Indwelling Holy Spirit
Technically when one prays this prayer the Holy Spirit literally comes into one's heart to dwell and He gives a fellowship in one's heart with both Jesus Christ and God the Father as now, Abba Father. (1 John 1:3)
New Heart
More than this, when the Holy Spirit comes in to dwell in our hearts, He gives us a new heart to God. This is sometimes called being born again or made regenerate (from our fallen human condition in Adam).

So, what's the catch? There is no catch unless one does not want to sign on to be a follower of Christ, then there is a big catch. Why? Because faith without works is dead. We are saved "unto good works." One cannot be a true Christian (follower of Jesus) without really being a Christian follower of Jesus.

Covenant vow
Essentially, when one says "I do" in a covenant vow for the reconciling work of Christ on the Cross for one's sins (as in the above prayer), one is signing on to follow, just as one gets married simply by saying a covenant vow, but at the same time, one promises to be faithful to one's married partner. This is no different than promising to be a faithful Covenant follower of the Way of Christ in all that one does as one says "I do" in personally accepting the atoning work of Christ for one's self. So, the big question becomes: what does it mean to be a faithful follower of Christ in all that one does?

The Two Great Commandments
The answer to that question is surprisingly simple because Jesus said all the Law and Prophets can be summed up by the Two Great Commandments of "Love God with all your heart, mind, soul, and strength, and love your neighbor as yourself." (Luke 10:27)

The Second Great Commandment of "love your neighbor as yourself" is generally associated with the Golden Rule of "Do unto others as you would have them do unto you."

The Golden Rule is generally associated with doing no wrong or harm to others and with helping those in need as you would want to be helped if you were in their situation of need. This is also the agape love of the Bible says Paul in Romans 13:9-10, and it is not continuously doing a selfless sacrificial service helping the least among us, though it can no doubt entail such helping others at times.
Seeing agape love as supposedly only selfless service to others or to the collective is a fallacy of the heresy called neo-orthodoxy associated with the infamous apostates Karl Barth and Reinhold Niebuhr. Neo-orthodoxy rejects the moral virtue of the Golden Rule as the point of Christianity and replaces it with an amoral and utopian selfless service to the socialist collective as supposedly the only "moral" good or virtue, and there is no legitimate moral or mutual self-interest.

Loving one's neighbor as as one's self (which one does as a faithful follower of Christ) is primarily about moral reciprocity or moral or mutual self-interest and treating others as one wishes to be treated. Simple enough. The key take away is the morally Right living of the Second Great Commandment is the Golden Rule and the moral Good Life of Solomon and Socrates lived in Wisdom or Right Reason.

Spirit-led life
However, for the born-again Christian with Christ in his heart, it is a matter of doing the Two Great Commandments (of Right living) in a (Holy) Spirit-filled and led life that only comes for those who have personally accepted Christ's atoning work for themselves. These people have not just Christ in their hearts but the peace that passes all understanding from being in Christ and being "saved" from the Final Judgment and condemnation of God.

Prayer
Besides Spirit-filled and Wise morally right living in all that we do in order to be faithful followers of Christ, the Christian has direct access to God in prayer without the need of an earthly priest because Christ is now our High Priest, and we can in the realm of the Spirit of God go directly to God the Father through Christ, who is God the Son.

The Lord's Prayer is this:
"Our Father, who art in heaven, Hallowed be thy name. Thy kingdom come, Thy will be done on earth, as it is in heaven. Give us this day our daily bread. And forgive us our trespasses, as we forgive those who trespass against us. And lead us not into temptation, but deliver us from evil: For thine is the Kingdom, and the power, and the glory, for ever and ever. Amen." (Matthew 6:9-13)
The Kingdom of God
The Kingdom of God is wherever the Spirit of God reigns. The Kingdom of God came on earth in the realm of the spirit at Pentecost for all true believers in Christ. The totality of these people is called the Church, and it is called the City of God by the great Saint Augustine, while he calls the lost and unregenerate rest of mankind the City of Man.

The much prophesied Kingdom of God in a larger political sense began in substance to emerge in a major way with the British Glorious Revolution of 1688 based on the teachings of John Locke, and then in a more explicit way with the American Revolution of 1776 also based on the teachings of Locke and on the moral "Laws of Nature and of Nature's God" as stated by Blackstone, Jefferson, and the American Founders.

The moral Laws of Nature and of Nature's God are the truths of the Natural Revelation of the Greco-Roman tradition interfacing with the truths of the Special Revelation of the Bible in the Judeo-Christian tradition.

Governments based on the moral Laws of Nature and of Nature's God are of the Spirit of Christ. Governments not based on the moral Laws of Nature and of Nature's God are implicitly and overtly lawless and are, therefore, of the spirit of anti-Christ.

Christians who are faithful followers of Christ are to be working and praying for the Kingdom of God to come on earth both in Christian evangelism to expand the Kingdom of God spiritually and in Just government as such opportunities present themselves.

This is very easy to remember because the major theme of the New Testament is Justification (that is, salvation in Christ), and the major theme of the Old Testament is doing Justice and Righteousness.

Justice is where the state does the right thing for the whole body of the commonwealth, and Righteousness is where the individual does the morally right thing personally, and both are based on the moral Laws of Nature and of Nature's God or, that is, the Spirit of Christ, not anti-Christ.
Classical Justice not Social Justice
The most common error and demonic deception here is that Christians are to do Social Justice and not classical Justice. Social Justice is a false Socialist "Justice" or, that is, socialism, which is an evil and an injustice.

In classical Justice one gets to keep the fruits of one's own labor. In Socialist "Justice" one does not get to keep the fruits of one's own labor; rather the state takes them to hand out to others supposedly equally. A classic definition of slavery is not getting to keep the fruits of one's own labors. Hence, Socialist Justice seeks to enslave the entire population, and therefore, Christians should never vote for a Social Justice candidate if at all possible. (The (U.S.) Democrat Party and (UK) Labour Party are parties of Social Justice.)

The Spirit of Christ Reigns
In truth, the Kingdom of God come on planet Earth in all its fullness is where the will of God by the Spirit of Christ reigns in Justice and Righteousness all areas of life, society, and culture and not just in the Church and in Just government.
All these various areas of life, society and culture can be seen as "mountains" or areas of life where the Spirit of Christ will reign in a Kingdom Era, such as the seven areas of culture some Christians talk about of church, government, education, the family, media and communications, marketplace and economics, arts and entertainment. However, in actual number, there are dozens of areas of life, society, and culture where Christians should show leadership with standards of excellence.

Such Kingdom-of-God work for a Whole Counsel of the Kingdom can in fact seem like a daunting and unsettling task on the surface, but in truth that would be a misunderstanding of the Christian life which is actually one of peaceful contentment and true human fulfillment in all areas of life and society and for all people. How can this be? Paul tells us.

Philippians 4:7-9 says: ...the peace of God, which passes all understanding, shall keep your hearts and minds through Christ Jesus. Finally, brethren, whatsoever things are true, whatsoever things are honest, whatsoever things are just, whatsoever things are pure, whatsoever things are lovely, whatsoever things are of good report; if there be any virtue, and if there be any praise, think on these things. Those things, which ye have both learned, and received, and heard, and seen in me, do: and the God of peace shall be with you.

Wisdom and Logos Rationality
And, further, when all these above things are done in all areas of life in all nations, the Spirit of Christ will reign in a Kingdom Era come on earth. The Spirit of Christ is the Spirit of Wisdom and Logos Rationality.

Whole Counsel of the Kingdom work is both promoting the Gospel of Christian salvation and promoting Justice and Righteousness in all areas of life and society where possible.

Jesus famously summed this up as "Seek ye first the Kingdom of God and God's Righteousness and all these things [of this life] shall be added to you." (Matt. 6:33)

The Righteousness of God is found both in Christ by faith in His atoning work and then in doing the morally Right thing of God in our daily lives. Both true Justice and true Righteousness are found in the Higher Moral Law of God, and when Wisely practiced it is like building your life and nation on the Rock of the teachings of Jesus, which are both moral and practical.

Christ is Prophet, Priest, and King in a Whole Counsel of the Kingdom of God Christianity:

Christ is Prophet when education is based on true Wisdom, Right Reason and Logos Rationality (after all Christ is the Logos).

Christ is King when government is based on the moral and practical Laws of Nature and of Nature's God, as in the Declaration of Independence and the American founding.

Christ is High Priest when religion worships God correctly in Spirit and Truth: Religion is, therefore, based on the Atoning work of Christ (to make us "at one" with God), and it is based on the fullness of a Whole Counsel of the Kingdom Christianity.
A Whole Counsel of the Kingdom Apostles' Creed with a Covenant Vow to Christ>>>

I believe in God the Father Almighty, maker of heaven and earth; And in Jesus Christ his only Son our Lord: who was conceived by the Holy Spirit, born of the Virgin Mary, suffered under Pontius Pilate, was crucified, dead, and buried; the third day he rose from the dead; he ascended into heaven, and sitteth at the right hand of God the Father Almighty; from thence he shall come to judge the quick and the dead. I believe in the Holy Spirit, the holy, universal catholic church, the communion of saints, the forgiveness of sins, the resurrection of the body, and the life everlasting.
I believe Jesus died on the Cross for my sins, and I accept that atoning sacrifice for myself and I turn from all sin and invite the Christ of the one true God of this universe to come into my heart, and to come into my heart to stay, and in covenant commitment I do vow to follow Christ faithfully all the days of my life in practicing the Two Great Commandments to "Love God with all my heart, mind, and soul and to love my neighbor as myself" in the Way of Truth, Justice and Righteousness in all that I do, so help me, God.
+ + + + + + + + +
Selected Bible verses
John 1:1-18
1:1 In the beginning was the Word, and the Word was with God, and the Word was God. 1:2 The same was in the beginning with God. 1:3 All things were made by him; and without him was not any thing made that was made. 1:4 In him was life; and the life was the light of men. 1:5 And the light shineth in darkness; and the darkness comprehended it not.

1:6 There was a man sent from God, whose name was John. 1:7 The same came for a witness, to bear witness of the Light, that all men through him might believe. 1:8 He was not that Light, but was sent to bear witness of that Light. 1:9 That was the true Light, which lighteth every man that cometh into the world. 1:10 He was in the world, and the world was made by him, and the world knew him not. 1:11 He came unto his own, and his own received him not. 1:12 But as many as received him, to them gave he power to become the sons of God, even to them that believe on his name: 1:13 Which were born, not of blood, nor of the will of the flesh, nor of the will of man, but of God.
1:14 And the Word was made flesh, and dwelt among us, (and we beheld his glory, the glory as of the only begotten of the Father,) full of grace and truth. 217 1:15 John bare witness of him, and cried, saying, This was he of whom I spake, He that cometh after me is preferred before me: for he was before me. 1:16 And of his fulness have all we received, and grace for grace. 1:17 For the law was given by Moses, but grace and truth came by Jesus Christ. 1:18 No man hath seen God at any time, the only begotten Son, which is in the bosom of the Father, he hath declared him.

John 3:1-21
3:1 There was a man of the Pharisees, named Nicodemus, a ruler of the Jews: 3:2 The same came to Jesus by night, and said unto him, Rabbi, we know that thou art a teacher come from God: for no man can do these miracles that thou doest, except God be with him. 3:3 Jesus answered and said unto him, Verily, verily, I say unto thee, Except a man be born again, he cannot see the kingdom of God.

3:4 Nicodemus saith unto him, How can a man be born when he is old? can he enter the second time into his mother's womb, and be born? 3:5 Jesus answered, Verily, verily, I say unto thee, Except a man be born of water and of the Spirit, he cannot enter into the kingdom of God. 3:6 That which is born of the flesh is flesh; and that which is born of the Spirit is spirit. 3:7 Marvel not that I said unto thee, Ye must be born again. 3:8 The wind bloweth where it listeth, and thou hearest the sound thereof, but canst not tell whence it cometh, and whither it goeth: so is every one that is born of the Spirit.

3:9 Nicodemus answered and said unto him, How can these things be? 3:10 Jesus answered and said unto him, Art thou a master of Israel, and knowest not these things? 3:11 Verily, verily, I say unto thee, We speak that we do know, and testify that we have seen; and ye receive not our witness. 3:12 If I have told you earthly things, and ye believe not, how shall ye believe, if I tell you of heavenly things? 3:13 And no man hath ascended up to heaven, but he that came down from heaven, even the Son of man which is in heaven. 3:14 And as Moses lifted up the serpent in the wilderness, even so must the Son of man be lifted up: 3:15 That whosoever believeth in him should not perish, but have eternal life.

3:16 For God so loved the world, that he gave his only begotten Son, that whosoever believeth in him should not perish, but have everlasting life. 3:17 For God sent not his Son into the world to condemn the world; but that the world through him might be saved. 3:18 He that believeth on him is not condemned: but he that believeth not is condemned already, because he hath not believed in the name of the only begotten Son of God. 3:19 And this is the condemnation, that light is come into the world, and men loved darkness rather than light, because their deeds were evil. 3:20 For every one that doeth evil hateth the light, neither cometh to the light, lest his deeds should be reproved. 3:21 But he that doeth truth cometh to the light, that his deeds may be made manifest, that they are wrought in God.

John 4:1-43
4:1 When therefore the LORD knew how the Pharisees had heard that Jesus made and baptized more disciples than John, 4:2 (Though Jesus himself baptized not, but his disciples,) 4:3 He left Judaea, and departed again into Galilee. 4:4 And he must needs go through Samaria. 4:5 Then cometh he to a city of Samaria, which is called Sychar, near to the parcel of ground that Jacob gave to his son Joseph. 224 4:6 Now Jacob's well was there. Jesus therefore, being wearied with his journey, sat thus on the well: and it was about the sixth hour.

4:7 There cometh a woman of Samaria to draw water: Jesus saith unto her, Give me to drink. 4:8 (For his disciples were gone away unto the city to buy meat.) 4:9 Then saith the woman of Samaria unto him, How is it that thou, being a Jew, askest drink of me, which am a woman of Samaria? for the Jews have no dealings with the Samaritans. 4:10 Jesus answered and said unto her, If thou knewest the gift of God, and who it is that saith to thee, Give me to drink; thou wouldest have asked of him, and he would have given thee living water.

4:11 The woman saith unto him, Sir, thou hast nothing to draw with, and the well is deep: from whence then hast thou that living water? 4:12 Art thou greater than our father Jacob, which gave us the well, and drank thereof himself, and his children, and his cattle? 4:13 Jesus answered and said unto her, Whosoever drinketh of this water shall thirst again: 4:14 But whosoever drinketh of the water that I shall give him shall never thirst; but the water that I shall give him shall be in him a well of water springing up into everlasting life.

4:15 The woman saith unto him, Sir, give me this water, that I thirst not, neither come hither to draw. 4:16 Jesus saith unto her, Go, call thy husband, and come hither. 4:17 The woman answered and said, I have no husband. Jesus said unto her, Thou hast well said, I have no husband: 4:18 For thou hast had five husbands; and he whom thou now hast is not thy husband: in that saidst thou truly.

4:19 The woman saith unto him, Sir, I perceive that thou art a prophet. 4:20 Our fathers worshipped in this mountain; and ye say, that in Jerusalem is the place where men ought to worship. 225 4:21 Jesus saith unto her, Woman, believe me, the hour cometh, when ye shall neither in this mountain, nor yet at Jerusalem, worship the Father. 4:22 Ye worship ye know not what: we know what we worship: for salvation is of the Jews. 4:23 But the hour cometh, and now is, when the true worshippers shall worship the Father in spirit and in truth: for the Father seeketh such to worship him. 4:24 God is a Spirit: and they that worship him must worship him in spirit and in truth. 4:25 The woman saith unto him, I know that Messias cometh, which is called Christ: when he is come, he will tell us all things. 4:26 Jesus saith unto her, I that speak unto thee am he.

4:27 And upon this came his disciples, and marvelled that he talked with the woman: yet no man said, What seekest thou? or, Why talkest thou with her? 4:28 The woman then left her waterpot, and went her way into the city, and saith to the men, 4:29 Come, see a man, which told me all things that ever I did: is not this the Christ? 4:30 Then they went out of the city, and came unto him. 4:31 In the mean while his disciples prayed him, saying, Master, eat. 4:32 But he said unto them, I have meat to eat that ye know not of. 4:33 Therefore said the disciples one to another, Hath any man brought him ought to eat?
4:34 Jesus saith unto them, My meat is to do the will of him that sent me, and to finish his work. 4:35 Say not ye, There are yet four months, and then cometh harvest? behold, I say unto you, Lift up your eyes, and look on the fields; for they are white already to harvest. 226 4:36 And he that reapeth receiveth wages, and gathereth fruit unto life eternal: that both he that soweth and he that reapeth may rejoice together. 4:37 And herein is that saying true, One soweth, and another reapeth. 4:38 I sent you to reap that whereon ye bestowed no labor: other men labored, and ye are entered into their labors.

4:39 And many of the Samaritans of that city believed on him for the saying of the woman, which testified, He told me all that ever I did. 4:40 So when the Samaritans were come unto him, they besought him that he would tarry with them: and he abode there two days. 4:41 And many more believed because of his own word; 4:42 And said unto the woman, Now we believe, not because of thy saying: for we have heard him ourselves, and know that this is indeed the Christ, the Savior of the world.
Ephesians 5
5:1 Be ye therefore followers of God, as dear children; 5:2 And walk in love, as Christ also hath loved us, and hath given himself for us an offering and a sacrifice to God for a sweetsmelling savor. 5:3 But fornication, and all uncleanness, or covetousness, let it not be once named among you, as becometh saints; 5:4 Neither filthiness, nor foolish talking, nor jesting, which are not convenient: but rather giving of thanks. 5:5 For this ye know, that no whoremonger, nor unclean person, nor covetous man, who is an idolater, hath any inheritance in the kingdom of Christ and of God. 5:6 Let no man deceive you with vain words: for because of these things cometh the wrath of God upon the children of disobedience. 5:7 Be not ye therefore partakers with them.

5:8 For ye were sometimes darkness, but now are ye light in the Lord: walk as children of light: 5:9 (For the fruit of the Spirit is in all goodness and righteousness and truth;) 5:10 Proving what is acceptable unto the Lord. 5:11 And have no fellowship with the unfruitful works of darkness, but rather reprove them. 5:12 For it is a shame even to speak of those things which are done of them in secret. 5:13 But all things that are reproved are made manifest by the light: for whatsoever doth make manifest is light. 5:14 Wherefore he saith, Awake thou that sleepest, and arise from the dead, and Christ shall give thee light.

5:15 See then that ye walk circumspectly, not as fools, but as wise, 5:16 Redeeming the time, because the days are evil. 463 5:17 Wherefore be ye not unwise, but understanding what the will of the Lord is. 5:18 And be not drunk with wine, wherein is excess; but be filled with the Spirit; 5:19 Speaking to yourselves in psalms and hymns and spiritual songs, singing and making melody in your heart to the Lord; 5:20 Giving thanks always for all things unto God and the Father in the name of our Lord Jesus Christ; 5:21 Submitting yourselves one to another in the fear of God.

5:22 Wives, submit yourselves unto your own husbands, as unto the Lord. 5:23 For the husband is the head of the wife, even as Christ is the head of the church: and he is the savior of the body. 5:24 Therefore as the church is subject unto Christ, so let the wives be to their own husbands in every thing. 5:25 Husbands, love your wives, even as Christ also loved the church, and gave himself for it; 5:26 That he might sanctify and cleanse it with the washing of water by the word, 5:27 That he might present it to himself a glorious church, not having spot, or wrinkle, or any such thing; but that it should be holy and without blemish. 5:28 So ought men to love their wives as their own bodies. He that loveth his wife loveth himself. 5:29 For no man ever yet hated his own flesh; but nourisheth and cherisheth it, even as the Lord the church: 5:30 For we are members of his body, of his flesh, and of his bones. 5:31 For this cause shall a man leave his father and mother, and shall be joined unto his wife, and they two shall be one flesh. 5:32 This is a great mystery: but I speak concerning Christ and the church. 464 5:33 Nevertheless let every one of you in particular so love his wife even as himself; and the wife see that she reverence her husband.

Ephesians 6:1-20
6:1 Children, obey your parents in the Lord: for this is right. 6:2 Honor thy father and mother; which is the first commandment with promise; 6:3 That it may be well with thee, and thou mayest live long on the earth. 6:4 And, ye fathers, provoke not your children to wrath: but bring them up in the nurture and admonition of the Lord.

6:5 Servants, be obedient to them that are your masters according to the flesh, with fear and trembling, in singleness of your heart, as unto Christ; 6:6 Not with eyeservice, as menpleasers; but as the servants of Christ, doing the will of God from the heart; 6:7 With good will doing service, as to the Lord, and not to men: 6:8 Knowing that whatsoever good thing any man doeth, the same shall he receive of the Lord, whether he be bond or free. 6:9 And, ye masters, do the same things unto them, forbearing threatening: knowing that your Master also is in heaven; neither is there respect of persons with him.

6:10 Finally, my brethren, be strong in the Lord, and in the power of his might. 6:11 Put on the whole armor of God, that ye may be able to stand against the wiles of the devil. 6:12 For we wrestle not against flesh and blood, but against principalities, against powers, against the rulers of the darkness of this world, against spiritual wickedness in high places. 6:13 Wherefore take unto you the whole armor of God, that ye may be able to withstand in the evil day, and having done all, to stand. 6:14 Stand therefore, having your loins girt about with truth, and having on the breastplate of righteousness; 6:15 And your feet shod with the preparation of the gospel of peace;

6:16 Above all, taking the shield of faith, wherewith ye shall be able to quench all the fiery darts of the wicked. 6:17 And take the helmet of salvation, and the sword of the Spirit, which is the word of God: 6:18 Praying always with all prayer and supplication in the Spirit, and watching thereunto with all perseverance and supplication for all saints; 6:19 And for me, that utterance may be given unto me, that I may open my mouth boldly, to make known the mystery of the gospel, 6:20 For which I am an ambassador in bonds: that therein I may speak boldly, as I ought to speak.